Sometimes a game's success is undermined by mis-categorization, under-selling, over-selling or even just general bad press. Firewatch, even in it's age, has been over-sold as an Adventure Game, but under-sold as something else entirely – which I would venture to identify as a short story micro-game.
It's hard to believe that Firewatch, from Developers Campo Santo came out in 2016, 6 long years ago…
While recently perusing the Xbox Game Pass library, I suddenly noticed it pop up so I decided to take it for a spin. Expecting a full-scale adventure game, I was a little surprised to see just few measly gigabytes for file size. A few minutes later, my game was ready and I blasted into an incredibly raw and emotional intro sequence where I was introduced to my wife and the quirky relationship she had with my character, Henry.
The whole sequence was pretty moving. It reminded me of the first 10 minutes of the Pixar movie Up, which was notoriously known to bring people to tears upon first, and even second time watching (For me, it's every time….). Soon after the sequence, the adventure began and after my first hour or so on the job, I realized what this micro-game really had to offer.
I don't want to spoil any story for you, instead I'm just going to explain why Firewatch is very deserving of 3 hours of your time – but not a minute more.
Firewatch's magic is not in the beauty of it's world, the exploration, or even the gameplay. In fact, it's world can feel a bit bare at times. The designs are pleasant surely, but lack scale. Exploring the world is tempting but unfortunately held back by clunky controls and long-drawn out movement animations, such as climbing rock formations that just seem to take forever. Perhaps this is done intentionally – in an effort to anchor you to Henry's mortality/vulnerability and therefore make you care more about his fate throughout the story. In any case….
I found myself a bit hesitant to explore to the same extent that I normally would in a game, purely because of this lack of mobility. To give you an idea: Running from my tower to the far north point of the map (which in game is about 5km, took at least 20 minutes to navigate, and not because of the sheer distance but mostly because of the frequent vaulting over obstacles, down-climbing and up-climbing animations slowing you down. The gameplay its self is nothing to write home about either. You can't do much other than operate your radio and occasionally pick things up and inspect them, so throughout the entire experience you feel a bit powerless to your surroundings!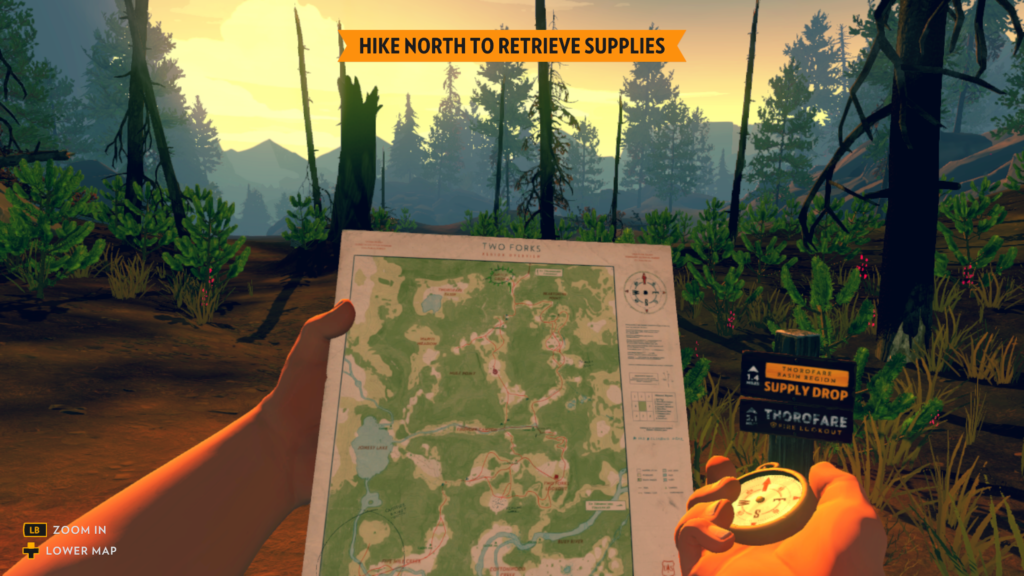 Firewatch's True Value: Story-Telling.
The dialogue between you and Delilah – your colleague and nearest Firewatch Tower spotter – is delightful, witty and real. They employed some real talent for these roles: Henry's character voiced by an actor from Madmen, and Delilah from The Walking Dead. The writing is refreshing and the plot that unfolds, although it's not exactly remaking the wheel, will captivate you through the lens of the compelling characters who are living it.
Firewatch is also technically a choose your own adventure. Not in the sense that you can change the ultimate outcome or endgame, but that you can change major events of the story and background on your way there through dialogue choices that Henry is faced with when communicating with Delilah over the radio.
My Advice To Get The Most From Firewatch
Don't think of Firewatch as a full-length game. Some commentors online cite an 8 hour play-time, some claim closer to 4 to complete. I personally think that the way to play Firewatch is to stick to the main story, don't venture too far off the beaten-path and aim for a 3 hour playthrough. You'll do this by keeping your focus on the task at hand and not dilly dallying with the details. Don't worry, you'll still have time to take in the sights and read the occasional secret letter or stash away loot that you just can't help but pick up. The reason I give this advice is that I explored every nook and cranny of Firewatch's game world, and it just made the entire experience feel stale and over-stretched. I probably finished in 4.5 hours, and I really wish I had just stuck to the core content and went along for the ride as opposed to going for a "100% completion".
Firewatch is an interactive experience, but not a full-length videogame. Consider it a long movie! Don't get too attached to your choices (they don't change the end), don't sweat the details, stay on the path, and enjoy it for what it is – a fantastic, 3 hour story with an incredible cast and pleasant game world.
Firewatch is currently included in Xbox Gamepass. You can find it on Steam for $5.49 until February 3, or for $26.99 on the PlayStation store.