Love and Pies was the first game that I downloaded through Mistplay. Being the first game that I was looking to play from Mistplay in order to earn points, I just picked what game was boosted at the time. You can learn more about Mistplay here.
Love and Pies, Like a lot of games for mobile, is very simple with an even simpler story.
The Good in Love and Pies
The basis of the game is to merge different items to create other items that you can sell off to the customers that are waiting. in doing so you earn coins that will help you expand your shop allowing for more to be produced.
It's an incredibly simple mechanic yet I found myself coming back to it a lot. For some reason the act of being able to create the proper merges, especially 6 merge layers deep, was very satisfying. Luckily I play these games on an old phone that I leave at home. Otherwise I would have been finding myself playing this all throughout the day, even when it wasn't appropriate.
They've also created bonus items that sometimes pop up after creating a merge. These items need to be unlocked with gems (you can purchase in game) or by watching a video. If you choose to do neither the item eventually times out and is replaced with a coin. I really appreciate the developer deciding that there is something for the player there regardless of what they decide to do with the bonus item. There were even times that I was purposely waiting for the item to time out so that I could use the coin it left in other merges.
This is all to say that the game has done a really good job of creating an addicting play.
The Bad
There are some issues that I don't like about the game.
First is the fact that when I open the game there are a lot of things that pop up. Reminders to the current event that is happening. Notifications for the next event that is coming up. Showcasing some of the things that you can get from the shop. By the time that it's all done I am losing interest in even playing. I would say this is one of the main reasons that I actually stopped playing this game altogether.
Second, not all the board is available to you. There are items on the board that you have to merge with to unlock that square. At first it was a very satisfying feeling. Now, at what I would guess is the mid point, it is frustrating. Some of the items that need to be worked towards are a crazy amount of work to reach. I have put in many hours at this point and not reached it. That also means that I am unable to sell those items to the customers of the game bringing the storyline to a standstill. Some of the other locked squares are items that I haven't even been given access to meaning it is impossible for me to unlock them at this point, but they are in the way.
The Story for Love and Pies
The story for this game annoyed me really quickly. I don't know how many of you out there even care about the storyline that is in place for these types of games but this one is not worth your time.
The story scenes were so long and drawn out without saying anything of interest that it really didn't take me long to just start skipping every single one. At this point I still have no real idea what is going on but it hasn't made any difference to the actual game itself. I wouldn't put any effort in the story for Love and Pies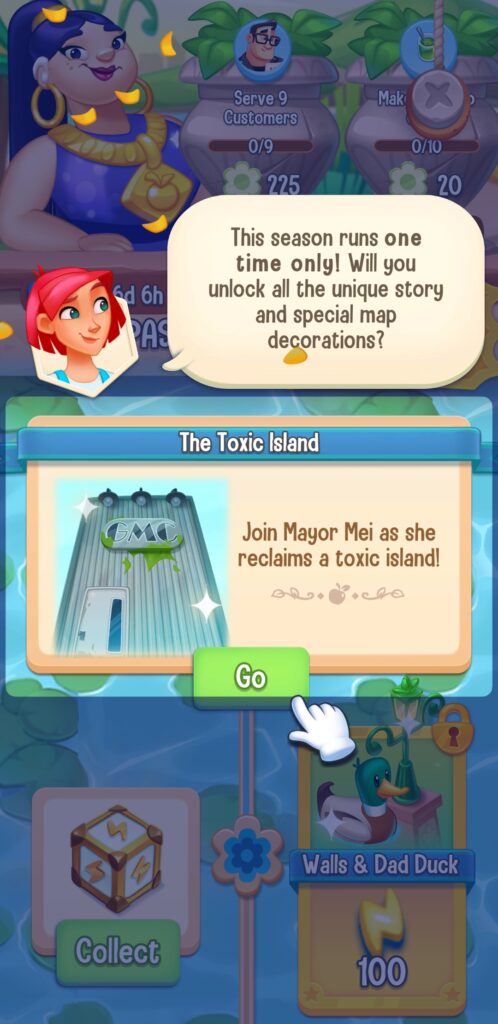 TLDR
Love and Pies is an easy to play merge game. Although It has a boring storyline, the gameplay itself is entertaining. You just have to get past the numerous in game pop ups each time you start the game.
If you're interested in the game yourself you can find it on the App Store and Google Play